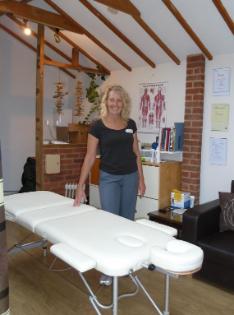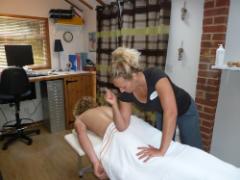 Full Insurance
Qualified First Aider
Professional Membership
I'm Vicci, a qualified clinical remedial & sports massage technician (often referred to as soft tissue therapy) who trained at London School of Sports Massage (LSSM), a school synonymous as the premier Sports Massage School in the UK
My BTEC Level 5 qualification ensures a detailed knowledge of techniques designed to alleviate pain & restore muscular & postural balance. After 8 years of working my own clinic, I've treated about a thousand clients covering most sporting injuries & postural imbalances. I'll be honest with you, if I DON'T think I can help & you need to see another Healthcare professional
Through my extensive working knowledge of the human body's muscle physiology, I trace a clients source of discomfort & pain to the muscle groups, ligaments & tendons and use a range of techniques to manipulate joints & soft tissue, releasing muscle tension & alleviating pain
A little bit about me
I am generally 'sporty' & active daily. Over the years I've competed in multiple running & cycling events, sprint triathlons & completed the 3 Peaks Challenge in 2008 and 2019! Recent years have decreased my appetite for competitive events but I am still a keen pleasure cyclist, attend Pilates, Bootcamp and HIIT classes most days, walk several times a day (with my dog Lulu) & ski every year. I am also walking the 653 miles of the SW Coast Path, only 45 to go!
My full-time love and passion is for surfing, which I am pretty rubbish at considering how long I've been doing it...however I have found is excellent for core strength & keeping the body loose and supple, negating the need to attend an indoor gym and putting a massive smile on your face! I follow the philosophy that exercise should be challenging but FUN & where possible done in the outdoors. The sunset beach on my website is the beach that I surf regularly in North Devon & is a very spiritual place for me for health & well-being
What I am passionate about!
In a nutshell, stretching and keep the body flexible
Stretching is fundamental to exercising safely & functional exercises are great for developing good core strength & to maximise mobility & flexibility
Dynamic stretching should ALWAYS be completed as part of a warm up with Static stretching forming part of any cool down after exercise.I am an ardent supporter of Pilates, for myself and clients; it improves posture, makes clients more 'posturally-aware' & sustains the benefits gained from treatment
My lifetime experience of semi-competitive sport & understanding first-hand the stress associated with working in a corporate environment ensures clients know of my personal experience as well as training to resolve injuries & strains & reduce stress. I get a great kick out of alleviating pain, helping people to perform better & feeling passionate about my work
As a member of Institute of Sport and Remedial Massage Therapists (ISRM), clients can be confident of my dedication to applied knowledge of emerging & new soft tissue techniques; the toolset to ensure my clients get optimum results.
ISRM membership can only be achieved if a member attends regular training & workshops, this ensures high standards are maintained & ISRM members gain continual professional development