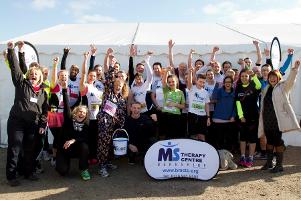 A great pictorial summary of yet another truly inspirational day. I was privileged to be supporting the 42 runners raising valuable funds for the MS Berks Therapy Centre for the past 3 years at the Reading Half Marathon in March each year
Well done to everyone that takes part in these critical fundraising events, you are amazing...there are always some excellent times for first timers & some PB's for those digging really deep.
For those of you looking for a different challenge join the party atmosphere at the Endure24 event weekend, every year in Aldermaston...dubbed the Glastonbury for Runners
Supported events in past years
Smoothing Knots are pleased to have supported at these events:
Looking forward to supporting all my clients and runners in this years Reading Half Marathon... rain, snow hail, blazing sun, we've had it all over the years! See you all on Kendrick Road on 5th April 2020
Reading Vitality Half Marathon - 22nd March 2015 - supporting MS Therapy Centre Berkshire 42 event runners - it was a hot and unexpected turn of weather, especially as no-one had trained in anything above 3 degrees! Nice tan lines were had!
Endure24 - 24 Hour running event - 2014/2015/2016 - each year extremes, a mixture of blazing heat or muddy and soggy - never thought I'd be exfoliating legs as well as massaging them! For the website visit http://www.endure24.co.uk/
Green Park 10K - 18th May 2014 - A hot and way to sunny day for the guys and girls that took part - great results and challenge for those that participated
Reading Mizuno Half Marathon 2014 - 2nd March 2014 - supporting MS Therapy Centre Berkshire
Goring 10K - 3rd March 2013
Reading Mizuno Half Marathon - 17th March 2013- supporting MS Berks Therapy Centre
Woodley Hammers Football Tournament - 1/2 June 2013
Endure24 - 24 Team & Solo Running event - 8/9 June 2013
Highdown Dash - 10K race at Emmer Green - 16 June 2013
Samaritans 5/10K race - Wellington College, Crowthorne - 30 June 2013
Thames 10K - Beale Park, Pangbourne, Near Reading - 31st July 2013